Fillers
If you are looking to enhance your looks with a completely natural substance which achieves a visible, long lasting aesthetic look then Dermal Fillers are for you. These products are fully absorbable with a smooth soft feel and a natural look.
Areas for treatment using dermal fillers:
Deep lines
Anger lines
Fine lines around the mouth-smoker lines
Nasolabial folds-the line from the nose to the mouth corners
Lip augmentation
Cheek augmentation
Lower face volume loss
Jaw line definition
View our Frequently Asked Questions
Anti-Wrinkle Injections
Feel great because you look great naturally and in a manner that suits your face and feelings.
Lines form with repeated muscular activity such as frowning and squinting. These lines may be treated with anti-wrinkle injections, they smooth out the lines and give your face a refreshed look.
Anti-wrinkle treatments can be use for:
Frown lines
Forehead lines
Crow's feet
Eyebrow lift
Lip lines
Dimply Chin
View our Frequently Asked Questions
Laser Rejuvenation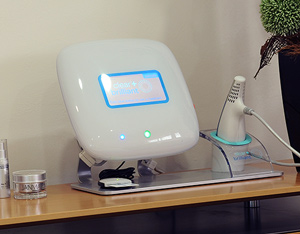 We are proud to advise that we are the first medical practice in South Australia to acquire the "Clear & Brilliant Laser". The "Clear & Brilliant Laser" will rejuvenate the skin promoting a fresh, smooth skin by improving skin tone & texture, all done with minimal downtime, even returning to work on the same day.